Comprehensive List of Researchers "Information Knowledge"
Center for Embedded Computing Systems
Name

SAKAMOTO, Tadashi
Group
Title

Designated Professor
Degree

Dr. of Engineering
Research Field

Embedded system / Development of a SPF for automobiles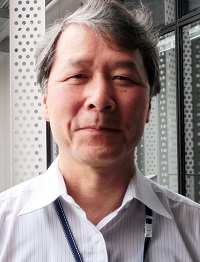 Current Research
Design and development methods for embedded system
OUTLINE
Embedded software, which is incorporated in embedded equipments and controling them, is the nucleus of the embedded system and an area that Japan can best show force. and should not have to exert the most force. Embedded software is already a part of our social infrastructure, and also depend the competitiveness of other industries. Such socially important embedded software, point high quality, high reliability is required, also well-suited to Japan in terms of cooperation with the hardware. Through that we will continue to develop the human resources responsible for the embedded software, which is important for Japan and a field that Japan can exert a force at the same time, we aim to improve development capabilities of embedded system in Japan.
TOPICS
Development of a software platform (SPF) for automobiles
The standardization of a SPF for embedded systems for automobiles is underway in Europe initiative and as the result, SPF for automobiles has become oligopoly state by the European companies. To maintain the superiority of Japan's automobile industry, rather than resorting to the oligopoly SPF, developing a competitive SPF easy to put out the strengths of the Japan's integral architecture development is desired. For problem solving for such SPF development, we established a consortium-type joint research organization by the University and several companies and research a high quality SPF for automotive control systems with our real-time OS technology as the core.
FUTURE WORK
We will continue to develop these researches, we will promote the research and development toward commercialization. We also will continue to practice the development of human resources responsible for the embedded software in conjunction with research and development.
Career
Tadashi Sakamoto received his Ph.D. degree in engineering from Shizuoka University in 1999.  He joined Mitsubishi Electric Corporation in 1983. In 2015, he joined the Center for Embedded Computing Systems, Nagoya University, as a designated professor.
Academic Societies
IEEE Consumer Electronics Society
Publications
JPEG Software Solution for a 32-bit MCU, IEEE Transactions on Consumer Electronics, Vol. 43, No. 3, pp. 410-417 (1997)
Software JPEG for a 32-bit MCU with Dual Issue, IEEE Transactions on Consumer Electronics, Vol. 44, No. 4, pp. 1,334-1,341 (1998)
A Fast MPEG-Audio Layer III Algorithm for a 32-bit MCU, IEEE Transactions on Consumer Electronics, Vol. 45, No. 3, pp. 986-993 (1999)