Comprehensive List of Researchers "Information Knowledge"
Department of Systems and Social Informatics
Name

ENOKIBORI, Yu
Group

Knowledge Society and Information Systems Group
Title

Assistant Professor
Degree

Dr. of Engineering
Research Field

Ubiquitous / Wearable / Skill and training analysis / Health care system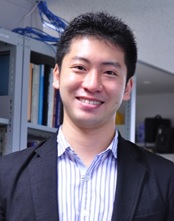 Current Research
Ubiquitous and invisible computing
[Outline]
Small computers and sensors, including smartphones, are going to be distributed and integrated into our life steadily. Such gadgets are sensing, analyzing, and supporting our daily life. For example, smartphones logs our movement paths, extracts favorite places, and recommends travel timetables automatically. Several additional sensors, such as activity monitor wrist-band, enable more rich-smart applications in collaboration with smartphones. In the future, garment, shoes, chair, table, room, home and so on will get sensing functions and start to support our life invisibly. My research objective is to propel such trends.
[Research themes
This section introduces two of research topics.
1: E-textile sensor and medical/healthcare applications E-textile sensor is suitable for sensing gadgets that contact for human body frequently, e.g., clothes, bed-sheet, and so on., because it is flexible, soft and having good feel. In addition, our e-textile sensor is suitable for mass production. The material of our sensor is a common low-cost conductive fiber that does not use special and costly materials, such as optical fiber. Moreover, it is woven with common weaving machines with a special manner; thus, cost can be reduced and size increased in the same manner as common textiles. It is suitable feature for disposable use that is required for medical and healthcare applications.
The following picture shows a wearable spirometer using our e-textile stretch sensor, called SpiroVest. The objective of this product is to enable lung diseases inspection via daily lung behavior monitoring. For example, if lung volume is increasing during working, it may be a symptom of chronic obstructive pulmonary diseases (COPD). In the future work, we will integrate the same function for underwear and establish daily, automatically, continuously lung behavior monitoring and early detection of such diseases.

The next picture shows a bed-sheet that can measure body pressure of subjects who are lying on. An application of this sensor is anti-pressure-ulcer treatment. Pressure ulcer occurs on skin where get high pressure for a long time. Thus, in current treatment method, caretakers change their patients' posture every 2 hours. It is a cause of high load of caretaker. So, now we are trying to implements some systems to reduce such high load, e.g., monitoring and notification of high pressure occurrence, analysis of patients' habit related to high body pressure occurrence, and so on.

(2) Skill analysis and coaching support using wearable sensors.
Sensor based analysis for skill and its coaching are important to implement effective skill training. Analysis for skill extracts essence of skill behavior. Analysis for coaching extracts essence of skill evaluation. However, trainee and coaches do not understand most of such essences objectively. Thus, we have to collect such essences from daily training and coaching that are done depending on their subjective sense. In order to establish it, we are using wearable sensors, and long time, e.g., 1 year, data collecting. We call such large dataset skill life-log.
The following picture is an overview of skill analysis using wearable hybrid sensors that includes accelerometer and gyroscope. The analyzed skill was metal filling that is one of important manufacturing skills. We collected skill life-log from trainee and expert coaches, and succeeded to extract skill and evaluation essences that are not understood objectively. The graph is comparison result of objective skill score estimated by our system and subjective ones scored by expert coaches. As shown in the graph, skill score estimated by our system has good accuracy.

Career
2010: Ph.D. degree in Information Engineering from Ritsumeikan University.
2010: Research Associate of Ritsumeikan University.
2011: Postdoctoral fellow, Graduate School of Information Science, Nagoya University
2013: Designated Assistant Professor, Graduate School of Information Science, Nagoya University
2015: Assistant Professor, Graduate School of Information Science, Nagoya University
Academic Societies
IPSJ
JSAI
SOBIM
Japan academy of nursing science
Publications
Yu Enokibori, et al., "Method to Reduce Errors Depending on Posture Changes in Respiratory Volume Estimation based on Torso-girth Measurement", SOBIM, Biomechanism 22, pp. 203-211 (2014)
Yu Enokibori, et al., "Reproduction of Expert's Subjective Skill-Level Evaluation with Wearable Acceleration and Gyroscope Sensors on Metal-Filing," Transactions of the JSAI, vol. 28, issue 4, pp.391-399 (2013)
Yu Enokibori, et al, "PeerPool: DNS Query-based Networking for Inter-Smart Environment Communication," IPSJ Transactions on Advanced Computing Systems, Vol.2, No.4, pp.37–47 (2009)
Yu Enokibori, et al., "A Virtualization of Smart Environment for Flexible Structure Reconfiguration", IPSJ Journal, Vol.49, No.1, pp.58-68 (2008)