Comprehensive List of Researchers "Information Knowledge"
Department of Complex Systems Science
Name

YOSHIDA, Kumi
Group

Life-Science Informatics Group
Title

Professor
Degree

Dr. of Agriculture
Research Field

Bioorganic chemistry / Natural product chemistry / Plant science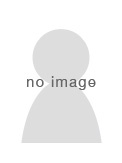 Current Research
Molecular Mechanism of Biofunctions
Life is a complex system in which many organic molecules play important roles to maintain life by interacting with other molecules. In living beings, genetic information written in genomes are translated into proteins that biosynthesize bioactive macromolecules, middle molecules, and low molecular weight organic compounds. Our research group is targeting small organic molecules with many biological functions. We are clarifying the structure of the compounds and their mode of action focusing on their molecular association and recognition to get new biofunctions.
Our major interests are plant flavonoids and their functions :
in vivo
natural products chemistry. 1) mechanism of flower color development ; 2) isolation and structure elucidation of bioactive natural polyphenols from plants ; 3) synthesis of flavonoids.
1) Mechanism of flower color development
Most flower colors reflect anthocyanins, a kind of flavonoid. Although only a few chromophores of anthocyanins are found in nature, in flower petals the pigments can develop various colors from red through purple to blue. Isolated pigments are unstable and easily decoloriaed ; however, in living petals the colors are very stable. Therefore, "flower variation " and "stability in petal cells " have been attracting biologists and chemists for over a hundred years, and various theories such as pH theory, metal complex theory, copigmentation theory, and self-association theory have been proposed. Recently our group clarified the importance of molecular association by hydrophobic interaction in flower color development and stability by X-ray chrystallography, NMR, CD, and other instrumental studies. Now we are studying direct vacuolar pH and ion concentration measurement of colored vacuoles, the micro analysis of single cell components, and the structural elucidation of such flower pigments as hydrangeas, morning glories, blue poppies, blue clovers, etc.
2) Isolation and structure elucidation of bioactive natural polyphenols from plants.
Plant seed coats are a rich source of polyphenols. We are studying bioactive natural products from red adzuki beans. We have elucidated procyanidins and flavonol glycosides.
3) Synthesis of flavonoids.
Synthetic studies on glycosylated flavonoids and anthocyanins are progressing. Recently we established a total synthesis of cyanidin 3-glucoside using a bio-mimetic oxidative route from leuco-derivatives to anthocyanin by air oxidation for the first time.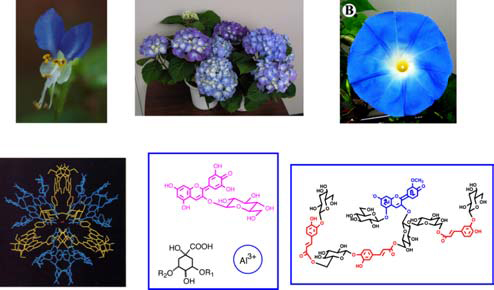 Figure : Various blue flowers and structure and mechanisms of blue color development. Left : blue day flower, Commelia communis ; middle : blue hydrangea, Hydrangea macrophylla ; right : blue morning glory : Ipomoea tricolor, cv. Heavenly Blue
Career
1982 : Ms of Agriculture, Nagoya University
1982-1988 : Amano Pharmaceutical Co. Ltd.
1988-2000 : Research associate, Sugiyama Jogakuen University
1992 : Ph D, Nagoya University
2000-2004 : Associate Professor, Graduate School of Human Informatics, Nagoya University.
2007 : Associate Professor, Graduate School of Information Science, Nagoya University
2010: Professor, Graduate School of Information Science, Nagoya University
Academic Societies
Japan Society for Bioscience
Biotechnology and Agrochemisty
The Chemical Society of Japan
The Japanese Society of Plant Physiologists
Japan Society of Home Economics
The Japanese Society for Food Science and Technology
The Japan Society of Cookery Science
The Botanical Society of Japan
Groupe Polyphenols
Publications
Chemistry of Flavonoids in Color Development. In Recent Advances in Polyphenol Research, Volume 3. Wiley-Blackwell Publishing (2012)
Tonoplast- and Plasma Membrane-localized Aquaporin-family Transporters in Blue Hydrangea Sepals of Aluminum Hyperaccumulating plant. PLOS ONE, 7, e73189 (2012).
色素の種類「植物の分子育種学」(鈴木正彦編・著)講談社、東京、(2011).
Blue Flower Color Development by Anthocyanins: from chemical structure to cell physiology. Nat. Prod. Rep., 26, 884-915 (2009).
花の色とアントシアニン「アントシアニンの科学¬  生理機能・製品開発の新展開—」(津田孝範、須田郁夫、津志田藤二郎編著)建帛社、東京、pp.47-73 (2009).
Cause of Blue Petal Colour, Nature, 373, 291 (1995).
Structure Determination of Commelinin from Commelina communis; Nature, 358, 515-518 (1992).