Comprehensive List of Researchers "Information Knowledge"
Department of Information Engineering
Name

FAJARDO, Jovilyn Therese B.
Group

Real World Data Circulation Program
Title

Designated Assistant Professor
Degree

Doctor of Engineering
Research Field

Mobile ad-hoc networks / People-centric sensing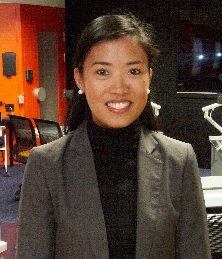 Current Research
Disaster Information Collection and Communication
In recent years, extreme events have overwhelmed the response capacity of different agencies and have affected many communities. When a large-scale disaster strikes, a common scenario is the partial or complete failure of the telecommunications infrastructure resulting in a breakdown of communication and lack of timely information. However, situational awareness over the disaster area is important because first responders need timely and accurate information to assess the situation in the affected area and to provide an effective and immediate assistance. Thus, our research study focuses on the collection and communication of information in a dynamically changing disaster environment.
With more people using mobile devices, we can leverage these devices for disaster information collection and communication. Our goal is to develop a community-based disaster network system with a disaster information hub responsible for aggregating situational awareness information and uploading relevant information to the Internet once infrastructure has been partially or fully restored, and a disaster information collection network based on the participatory framework with people serving as content creators and data being delivered through a delay tolerant network with the mobile devices as nodes. Related studies also include the creation of a disaster mobility model based on actual datasets of emergency scenarios and real traces from communities during the aftermath of a disaster as well as the development of an intelligent content classification system for disaster-related information.
Career
2013 D.Eng. in Information Science, Nara Institute of Science and Technology, Japan
2010 M.S. in Electronics Engineering, Ateneo de Manila University, Philippines
2007 B.S in Computer Engineering, Ateneo de Manila University, Philippines
2006 B.S. in Chemistry, Ateneo de Manila University, Philippines
Publications
J.T.B. Fajardo, K. Yasumoto, N. Shibata, W. Sun, and M. Ito, "Disaster Information Collection with Opportunistic Communication and Message Aggregation," Journal of Information Processing, Vol. 22, No. 2, pp. 106 – 117, 2014.
J.T.B. Fajardo and C.M. Oppus, "A Mobile Disaster Management System Using the Android Technology," WSEAS Transactions on Communications, Vol. 9, pp. 343 – 353, June 2010.