Comprehensive List of Researchers "Information Knowledge"
Department of Information Engineering
Name

EDAHIRO,Masato
Group

Information Platform Group
Title

Professor
Degree

Ph.D.
Research Field

Embedded Multi- / Many-Core Processors Parallelism / Concurrency (Optimization / Algorithms / Software Development Tools / etc.)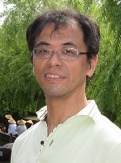 Current Research
Optimization Techniques for Embedded Multi- / Many-Core Processors, Algorithms, Software Development Tools
Our research topics include optimization techniques, algorithms, software development tools for embedded multi- / many-core processors.
 Multi- / many-core processors increase even in embedded systems due to limit of minitualization of semiconductor technologies.  On these 'high-performance' processors, performance of existing software might not be 'high' because of lack of parallelism / concurrency. Novel software development methodology is desired in order to derive inherent parallelism / concurrency from future applications in embbeded systems and to bring out 'abilities' of multi- / many-core processors.
 


Career
M. E. from University of Tokyo (Mathematical Engineering), Join NEC Corporation, 1985
Ph.D. from Princeton University (Computer Science), 1999
Research Fellow, System Devices Research Laboratories, NEC Corporation, 2002
Professor, Graduate School of Information Science, Nagoya University, 2011
Visiting Professor, Graduate School of Information Science and Technology, University of Tokyo (2008- )
Visiting Professor, Green Computing Systems Research Center, Waseda University (2011- )
Academic Societies
IEEE, OR Society of Japan, IEICE, IPSJ
Publications
M. Edahiro and Y. Yamashita, Map Sort: A Scalable Sorting Algorithm for Multi-Core Processors, Int. Workshop on Innovative Architecture for Future Generation High-Performance Processors (IWIA), 2007. (Best Paper)
M. Edahiro, An Efficient Zero-skew Routing Algorithm, ACM/IEEE Design Automation Conf. (DAC), 375-380, 1994. (Best Paper Candidate Nominated)
M. Edahiro, I. Kokubo and T. Asano, A New Point-Location Algorithm and Its Practical Efficiency: Comparison with Existing Algorithms, ACM Trans. Graphics, Vol.3, No.2, 86-109, 1984.
H. Inoue, A. Ikeno, T. Abe, J. Sakai and M. Edahiro, Dynamic Security Domain Scaling on Symmetric Multiprocessors for Future High-End Embedded Systems, Int. Conf. Hardware/Software Codesign & System Synthesis (CODES+ISSS), 39-44, 2007. (Best Paper)
T. Asano, M. Edahiro, H. Imai, M. Iri, K. Murota, Practical Use of Bucketing Techniques in Computational Geometry, Computational Geometry (G. T. Toussaint, ed.), North-Holland, 153-195, 1985.